Restore Your Hotel with Commercial Water Mitigation Services in Brooklyn
9/19/2022 (Permalink)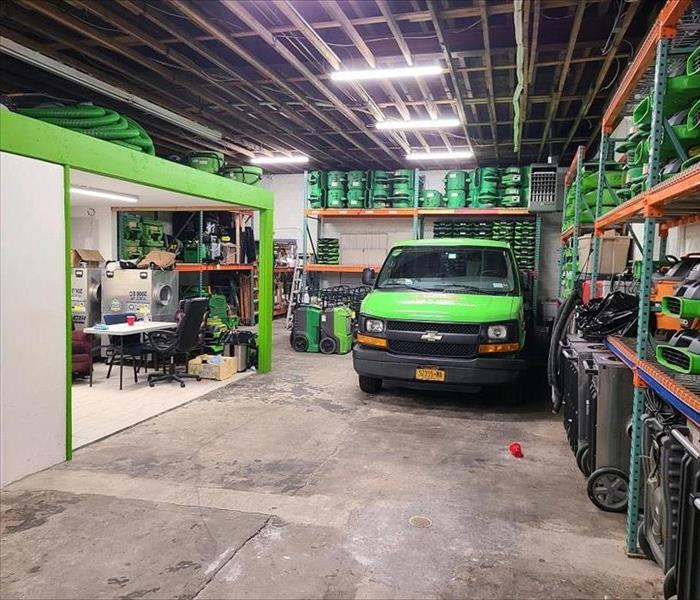 Our SERVPRO warehouse has the equipment and vehicles to compliment our skilled technicians. We mitigate water damage and keep your business open.
Commercial Water Mitigation Brooklyn is Faster with SERVPRO
Any business can sustain water damage, but those with increased risk are typically in high-rises in the health and hospitality services industries. Understanding the risks and safeguarding your interests with mitigation measures is crucial.
Performing prompt commercial water mitigation in your Brooklyn hotel is vital because you need to resume business operations. Canceling bookings can impact your revenue. SERVPRO can help you repair your hotel quickly to prevent revenue stream loss.
Water damage to a hotel property can cause issues like ruined flooring. Water can damage floors like tiles, vinyl, wood floors, and the subfloor beneath carpets. It is costly to replace such materials. Walls made of porous materials like drywall can also sustain damage. It may be necessary to repair or replace the bottom section of water-damaged drywall. SERVPRO provides water mitigation services for hotels consisting of all services required to restore them to pre-event condition, including the following:
Inspection and assessment
Water extraction
Dry out
Clean up
Building repair
SERVPRO's inspection services involve using equipment like thermal imaging cameras to determine which areas have moisture. We can also determine which restoration procedures are necessary to repair the affected structures and contents.
Water extraction is an essential step in eliminating moisture from your property. We use extraction equipment like electric submersible pumps to remove water from floors. The more water we extract, the less time we spend evaporating and dehumidifying the remaining moisture with drying equipment.
Our SERVPRO team can dry your hotel fast to reduce moisture levels. We can use air movers to enhance evaporation at the surface level. Our technicians can also use powerful dehumidifiers to draw moisture from floors and walls to prevent structural problems, bacteria, or mold infestation.
The last step of water damage restoration is to rebuild or repair walls, floors, ceilings, or other affected areas. This can make your hotel appear as it did before the damage.
You can count on SERVPRO of Mill Basin, Flatlands, for affordable and effective commercial water mitigation services. Call us at (718) 381-3271 to make the damage seem "Like it never even happened."